Is Australia ready to host the World Cup?
"There is no world event that is beyond the capacity of Australia to organise superbly."
Ahh yes. The wise and bold words of John Howard that spouts from his pro-USA mouth after claiming that Australia is ready to host the World Cup.
John clearly has been smoking too much dope lately, and the effects have been affecting him somewhat. There's simply no way Australia will be able to host a World Cup event.

Firstly, Australians have been fed on a diet of cricket, Australian football and rugby. Non of these football fields are sufficient for a football (soccer) ground. The size of football pitch is different from a cricket and Australian football pitch. The markings are different from a rugby pitch. And who plays football on an oval pitch!
Secondly (and more importantly), will Australians endear themselves to a football code that has been ridiculed, bastardised and abused for decades? Will they get tickets to watch World Cup games that does not involve the Socceroos?
Let's analyse John's claims and examine Australia's chances of hosting the World Cup.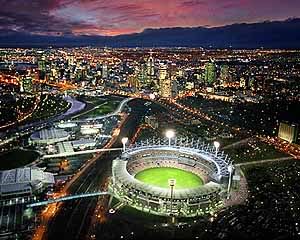 A common theme in all countries that has hosted a World Cup is the number of cities that're large enough to accomodate millions of fans, tourists and locals alike. Australia has 5 'big' cities – Sydney, Melbourne, Brisbane, Perth and Adelaide. By any stretch of the imagination, only Sydney and Melbourne truely qualify as big. A World Cup has 32 nations and is divided into 8 groups. Going by that logic, Australia needs 8 world-class stadiums AND cities to accomodate 4 nations in any one city.
Melbourne has 2 stadiums that're World Cup-ready, the MCG (above) and Telstra Dome. Question is, are the rest of the cities ready?
For a full transcript of adrock2xander's blog post, go here.