Mischa Barton in Melbourne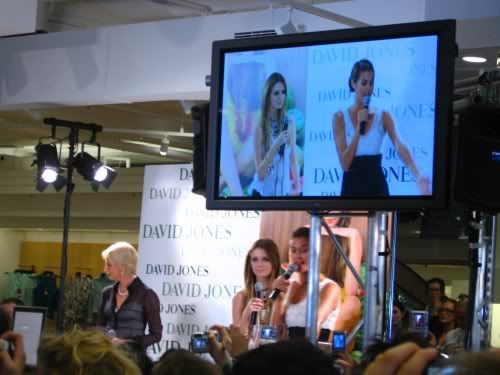 So what do you get when you mix 1 part The O.C star, 1 part Australia's top supermodel, several hundred parts of screaming teens who're committing truant and 1 part nosy me?
A riot.

I've never seen David Jones this packed before. It's half-empty most times, 'cept on post-Christmas sales. And the one time it's full to the brim, 80% of them are 18yo and under. Kinda sad. Myer > David Jones. No doubt about it.
Mischa, who was due to arrive in DJ at 1pm, arrived fashionably late. Thank god for Megan, who flew in specially from Italy (where she spends most of her time these days) to accompany Mischa. They seem to have become good friends.

For the M&M obsessed, here's a larger photo of the picture above. Chick in blonde's responsible for dressing Mischa up.

Megan toys with the crowd, walking around asking silly questions while the crowd waits impatiently for Mischa's impending arrival.

Mischa arrives; David Jones reverberates as her fans SCREAM. I almost lost my hearing.

Mischa poses for the cameras. She's very cute to look at. But not that terribly attractive. She didn't know where to put her hands and committed the biggest fashion faux pas of them all – she slouched. CK Model? Cmon…

Mischa goes off stage for a minute or two. I managed to get this close to her. All i had to do was reach out…

Mischa with an unidentified hot bald man. He must have been introduced, but i wasn't listening.

Dude, i was THIS close to her. Any closer a restraining order would have been necessary.
Mischa and bald man pose. Ok, who is this bald man? And why is he so cosy with Mischa? Is bald the new black? And hey, check out Mischa's ass.

Mischa sits and prepares for a Q&A session. I was more concerned with her sizeable derriere. As the Beastie Boys would put it, "Ch-ch-check it check it out! Wh-wh-what's it all about?!"