Tribute to a hero…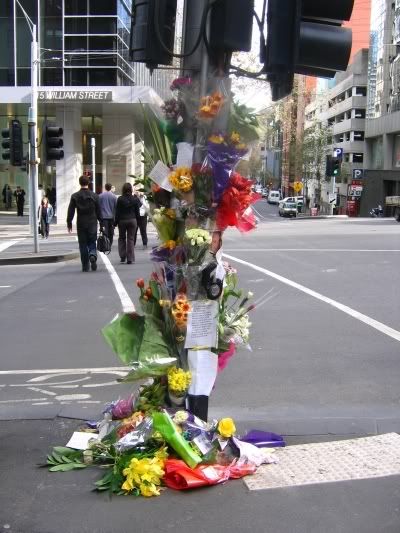 It's been a week since the tragic death of solicitor Brendan Keilar and the horrific city shooting. Last night, I had written a hand-made card with a little note crediting Brendan's selfless nature. I stopped short at 'incredible bravery', as people only thought he was brave after he died. Had the gunman Chris Hudson not wielded the gun and shoved Brendan instead, Brendan would not be placed on the pedestal.
However, I feel incredibly saddened by the nature of Brendan's death. I feel for his family and wondered what he did that morning he left for work. Did he kiss his missus goodbye? Did he tell his children he loves them? I tried placing myself in his shoes, and tried to comprehend the magnitude of the loss if I were the one who was shot.
With card in hand, I made the short trip from RMIT to the corner of Williams and Flinders Lane.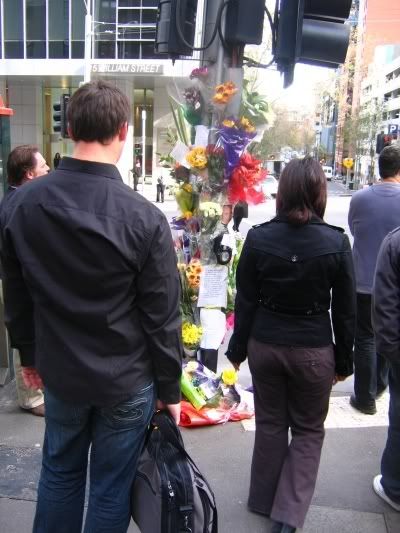 I read from The Age that this little tribute made out of flowers, cards and letters was just a hop, skip and throw away from the shooting. I have no idea where Brendan's body lay a week ago, but I imagined it was within 20 meters of where I stood.
Lots of people stopped to read the cards. Some placed little tokens of love and respect. I noticed a couple in the tram taking pictures of it. Three cops at the pedestrian crossing took a few moments from their duties to read the tokens of love as well. It was impossible to ignore it. Everyone who stopped at the pedestrian took a moment to read and perhaps say a little prayer for Brendan's family.
Let's hope the appropriate punishment is meted out. Anyone who possesses illegal firearms should be incarcerated for a long, long time.