Flies galore!
As an add-on to squirt's post several days ago, I thought I'll bring this picture up.
I still cannot fathom the number of flies that fester in Australia during summer. It makes summer in Australia extremely annoying and unpleasant.
While the number of flies in metropolitan Melbourne may be pesky (read: a bothered wave of you hand every 20 seconds), venture out to the coast to find what I call the 'Attack of the Many Flies'. (read: eight arms waving frantically wouldn't get you out of trouble.)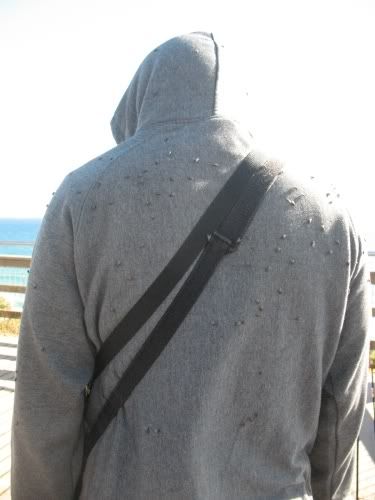 This picture was taken along Great Ocean Road this Sunday gone, and I kid you not, that was the number of flies that hitched a ride on my back while I busy posing for pictures with my family. You do not get that many flies in Melbourne.
Explains why I've got my hoodie over my head. I nearly wanted to scream, cry out for blood and jump into the ocean.