What the fuck were the police thinking?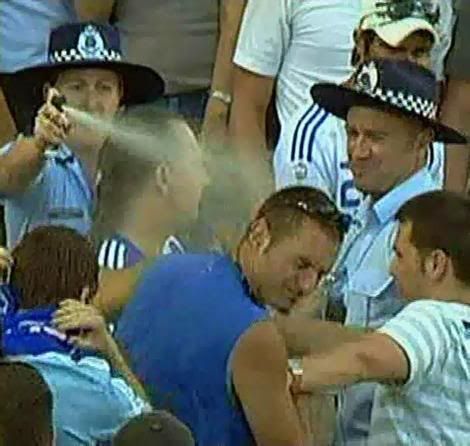 In the space of five days, Melbourne has become notoriously famous for two things: a) Corey 'my sunnies are too cool for Hollywood' Delaney and b) the violent confrontation that marred a good match in the Australian Open.
I enjoy a good game of tennis. I've watched it for many years and have even attended a Grand Slam (Australian Open) myself. The atmosphere in most matches are very friendly, and in some cases where the support is fanatical, you get that football (the world game, sorry Aussies) vibe. Everyone is cheering and good-natured, and when taunts are heard, they're always in the native tongue.

In the Gonzalez-Economidis game, it's clear that the Greek fans were chanting in Greek. Unless you're Greek, you wouldn't understand what they're saying. Sure, it got a little unruly. And they were drawing striking similarities to Gonzalez and a homosexual. So what? It's all part of competitiveness. Gonzalez was playing his game. No complaints from him whatsoever.
By using capsicum spray on the crowd. the police have crossed a dangerous line. Whatever happened to ejecting spectators like they've always done on cricket or footy days? Spray lingers in the air, and many spectators – including the innocent ones – were caught by the plumes of spray. Imagine what would have happened if the affected crowd ran for the exit, effectively creating a minor stampede. Now think what would happen if children, pregnant women or the elderly were involved. Safety in the Australian Open? I think not. The game would have been effectively over had it happened.
This is a debacle. The Greek fans are now threatening to sue the police. I say go for it. This was nowhere as threatening as last year's Serbian-Croatian racial uproar on Day 1. This was just fanatical support for their Greek players.
I hope the authorities do not start implementing a 'sit-down' ruling in future Australian Open. Any passionate followers of English football would know that the top-tiers of English football have removed free standing areas. The atmosphere is no longer the same. You can't cheer as voraciously.
Let's see what happens in the next few days. Should be an interesting Open.
Image from The Age