This is what happens to people who try to rob a taxi driver…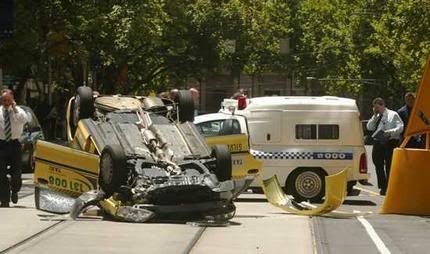 …nah I'm just kidding. I wouldn't want that happening to anyone, taxi robber or not.
With taxi fare evasion running rampant across the metro area of Melbourne, the Victorian Government has made prepaid fares mandatory for all taxi trips between 10 pm and 5 am across Victoria from 1 October 2008. Finally, a good step is taken towards protecting the interest of the taxi driver and taxi operator.
I don't take taxis all that often, and definitely less so in the nights 'coz I'm usually at home by 10pm. Has anyone tried taking taxis last night and if so, what do you think of the new regulation?
Image taken off 4cabbies.com.au