…when she's always experimented with fierce, kooky designs and colours? Or does the fashion industry just pay homage to the safe and commercial look?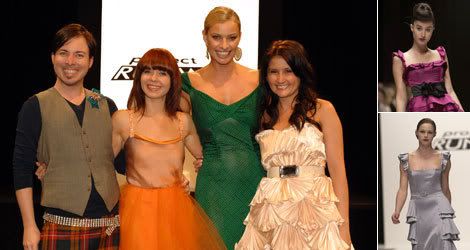 Above from left: 1st Runner-up Leigh Buchanan, 2nd Runner-up Petrova Hammond, Host Kristy Hinze and Winner Juli Grbac. Inset Winning designs from Juli Grbac. Image from Brisbane Times
Wait don't answer that, 'coz the first winner of Project Runway Australia, Queenslander Julie Grbac played it safe the entire season and won the competition based on the strength of her beautiful but nothing 'out of the box' women's wear.
Monday night's season finale left a bitter taste in my mouth. Granted, Melbourne representative Petrova was voted out earlier in the show and threw a high dice roll to return to the show. Fate smiled on her and I thought it was down to Petrova or the very stylish Lui Hon (who I thought brought minimalistic style to a whole new level) to win the competition. Had the judges any sense of what a reality fashion show-cum-competition is, our cute-enough-to-eat Petrova should have won by a mile. Why give these designers a chance to show off what they can really do i.e avant-garde, risky and leftfield when all you're really doing is finding the safest choice?
But kudos to the three finalists. I was an avid (even rabid) fan of the show and did not dispute the credibility of the final three. After putting all the 'passion in your fashion', multiple plot twists and ridiculous deadlines, you'd have to applaud them for getting that far.
Petrova Hammond's boutique Lady is located at Shop 3, 237 Flinders Lane Melbourne 3000. Drop in to say hi, congratulate or even tell her what you really thought of Mark Antonio's hairdo. Or visit the MySpace website here.