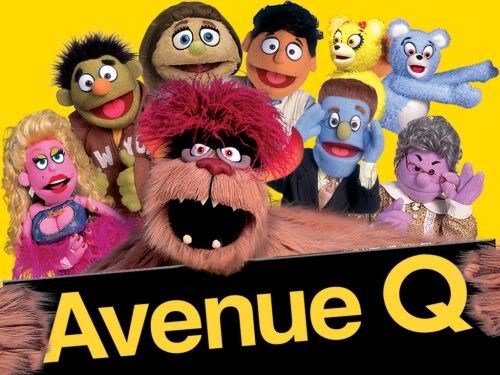 I took my wife to the Comedy Theatre yesterday for a matinee performance of Broadway's multi-award winning Avenue Q. Growing up in the early to mid 80s (guess that kinda pegs my age into a certain age group!) to the regular introduction of letters and numbers of Sesame Street, it was great to relive something days long gone in the flesh.
Of course, nobody in the audience was expecting anything as tame as the PBS show, so we knew what we were getting ourselves in for. It is the most extraordinary show I've ever seen. Who knew puppets could be so funny and touching? Few people would have the chance of experiencing a quality Broadway performance in their lifetime and I'm glad had a chance to say they've definitely destroyed my cutesy image of puppets! It's Sesame Street meets South Park! I won't give anymore away! It's so good I feel like double clicking on my mouse……..
The Avenue Q team plays in Melbourne for another week before moving to other parts of Australia. Tickets are very affordable and have been reduced to $49.90 (except Saturdays) and I highly recommend it with your family or date or just friends wanting a good time. Just make sure they're of 'mature' age!
EDIT: I just realised Neil's previous post has a picture of Lucy the Slut. How's that for unwitting advertisement placement?
Image from avenueqthemusical.com.au