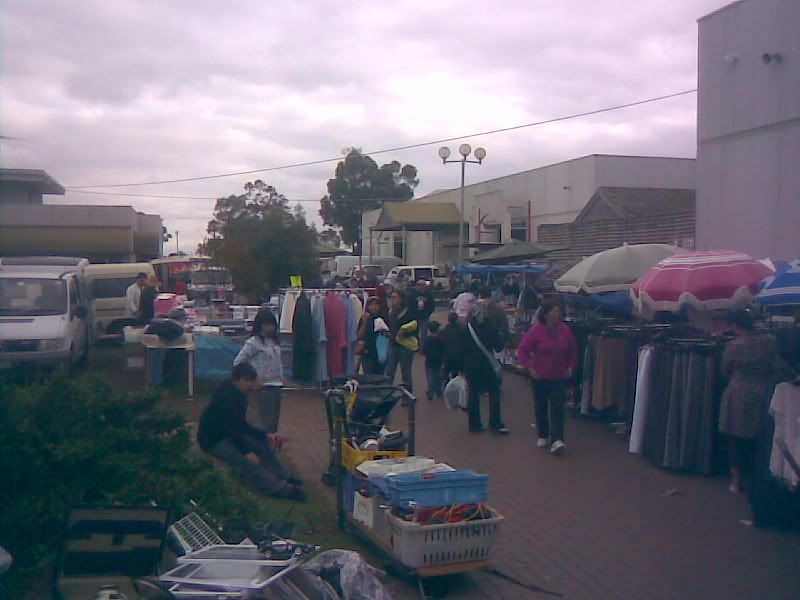 On the topic of the western suburbs (cheers squirt), and yours truly being a big western suburb fanboy, I've decided to sell something that's quite close to many westies' heart. Good ol' Laverton Market.
The pictures here don't do it justice, coz it was close to the end of the day, and there was an ominous gloom that threatened rain all day.
I've been to my fair share of markets, both within Australia and Asia, so I've seen some good ones. And some really bad ones. Laverton Market's somewhere at the top. Great food (double beef patty, egg, bacon and vege burger for $5! Bargain!) and cheap everything. I bought six tubes of 160g Colgate toothpaste for a princely sum of $15. A computer corner table that'd fetch $300 at Officeworks was purchased for $60. A pair of second hand Asics football boots was going for $15, but I haggled and bought it for $10. Then there's the ubiquitous jam donuts at $6 for 10. There's a little bit of trash and treasure in every shop. I think if I tried really hard, I might just find a mint '87 Cobra Commander going for cheap.
Laverton Market is located at 8-18 Leakes Road, Laverton. Open Saturdays and Sundays, 7am – 4pm