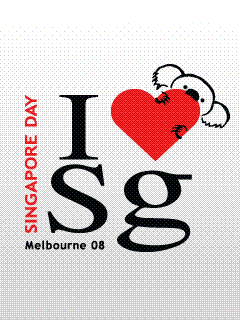 The weather's a lot nicer these days (though it still warrants a light jumper), so if you happen to be around the Sidney Myer Music Bowl this late morning or arvo, check out some local and distinctive Singaporean fare at Singapore Day 2008. Note the choice words of Singaporean, not Asian. Asian food is so varied and colourful, calling it 'Asian food' like most Asian food stalls do is just another nail into an Australian's stereotyped penchance for 'fried rice beef with black bean sauce' when they think Asian food.
But I digress.
With the inaugural Singapore Day in New York City a runaway success last year, organisers have brought Singapore Day into our antipodean shores. Although registration is required, there should be no reason why you can just waltz up into the grounds as entry is free.
Oh btw, Singapore Noodles DO NOT EXIST. That's a bastardised version of our famous Prawn Noodles and Hokkien Mee. I'll be making my way to the grounds soon, but I wouldn't be surprised if a 'Singapore Noodle' stall existed. Or some ignorant foreigner walking around asking for a Singapore Noodle stall.