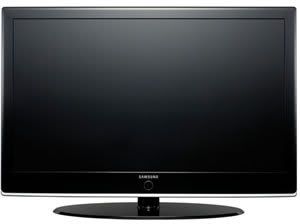 Have any readers, in the last five months, purchased a Samsung LCD/Plasma television during their buy-one-get-one free promo? I bought the sleek LA40M81BDX (above) in February from The Good Guys in Maribyrnong and Samsung had promised to deliver the tellies within six to eight weeks. I say that's hogwash, as we're now approaching the middle of May, and it's almost 11 weeks.
Confirmation email aside, I've not received any phonecalls, follow up emails or mail whatsoever. I say, how hard is it to send my free 19″ telly to my doorstep?
Granted, it was a good deal. For $1973 inc. gst, I got myself a relatively large LCD television and a free 19″. Now that's a steal.
But steal or not, it's still a restless wait for the Samsung contact that's never gona come. Or is it?
Yoohoo…anyone working in Samsung here? Get your fucking act together already! My bedroom looks empty and rather forlorn looking without a shiny screen looking back at me.