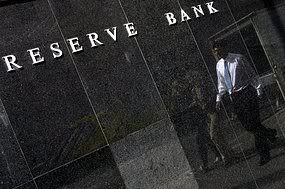 I know I'm not the only one who's breathing a little sigh of relief when the Reserve Bank announced an interest rate cut at 3.00PM yesterday – the first time in seven years. I was sitting at my desk refreshing the business page every few minutes as most industry experts were predicting an interest rate cut and news would filter through by 2.30PM. So much for working!
I think young couples with recently bought homes stand to gain the most in the short term. I wince every fortnight when I'm copping almost $2K a month in mortgage repayments, but I shudder to think how other Melburnians are able to afford their palatial homes in their 'desired' suburbs. Even with a dual income, I'd be hard pressed to find a young couple forking out payments for a $450,000 house, which by Melburnian standards is pretty average. *gasp* How on earth do these people survive? Stuff the price of petrol, look at the price of milk! $6 for 3 liters. Ridiculous!
Here's hoping our reprieve, however short, continues. It's good to have that extra $44/month in your pocket.
Image from ABC News